Jade Oolong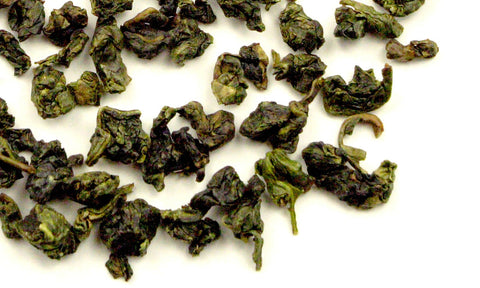 Ingredients: 100% Organic Jade oolong tea.  Hand crafted artisan tea.
Spring batch 2021. Nice and clean, aromatic, sweet finish.

This is the SPRING 2021 Yu Shan, an exceptional oolong tea with a reasonable price. Creamy, sweet, with a nice long finish. Great aromatics! Like Estate wines, oolong tea is a result of terroir (tehr-wahr); the climate, geology, and geography mingled with the genetic characteristics of the plant which results in changes from season to season. And this is a good thing! Some not-so-harsh climatic variances late last year were concerning, but some regions produced some excellent teas this year, and this is certainly one of them. Very light roast.

This tea is limited and quite special. Steep after steep reveals a kaleidoscope of flavors. Bold, nutty, almost earthy, "just rained next to ocean peach pie someone left the attic door slightly open bouquet of flowers cinnamon baked toast honey crisp rolling on the floor sitting with my book watching the world" - kind of thing.

Pesticide-Free, Chin Shin Oolong cultivar

AKA Tung Ting Jade Oolong, Formosa Jade Oolong, Cui Yu
Water: 195°F | Leaves: 1 TBSP per 12 ounce cup | Infusion Time: 2 minutes. Second steep, 30 seconds, increasing a few seconds each subsequent steep.

Basic Steeping Tips
- Use filtered or spring water, whenever possible 
- Don't over-boil water 
- Remove leaves after recommended time (adjust to taste) 
- If you want stronger tea, use more leaves instead of steeping for a longer time. 
Leaves can be re-steeped 2-3 times resulting in various flavor differences. Don't throw out those leaves until they have given it all up!
Polyphenol in oolong tea is effective in controlling weight. It activates the enzyme that is responsible for dissolving triglycerides. Studies have confirmed that a 2-3 cup per day intake of oolong tea contributes to enhancing the function of fat metabolism and controlling obesity.
Jade Oolong is named for its jade green brew color. This tea typically leans towards being less fermented than most oolong teas, usually between 10%-20% oxidized. The edges of this tea, much like the Sechong Oolong, tend to be browned, which indicated slight oxidation. Jade Oolong tends to be floral, light, slightly sweet, an overall very unique tea. 

Jade Oolong is not picked during the first flush due to the rough treatment of the oolong production process. The leaves are allowed to mature slightly, and are picked from mid spring until late summer. Usually, three leaves are picked, however, for the Jade Oolong, five leaf clusters are picked and rolled, much in the style of the gunpowder tea, which results in a piece of stem in the finished tea.