Bai Mudan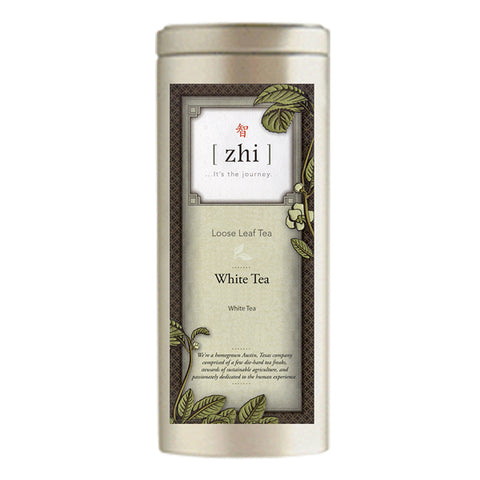 Ingredients: 100% Organic white loose tea leaves
A truly magical surprise - amazing Fair Trade white tea from the Fujian Province in China. Our Bai Mudan is a flavorful, deep, soft and super aromatic cup. Impeccably pure, sun yellow cup. Rich, hazelnut and chocolate notes with a sparkling clean finish. An exotic pleasure.
Unleashes incredible flavors upon further steepings.
Hint: Use more leaves for a stronger, more satisfying taste.

Water: 185°F | Leaves: 1 heaping TBSP per 12 ounce cup | Infusion Time: 3-4 minutes

Basic Steeping Tips
- Use filtered or spring water, whenever possible 
- Don't overboil water 
- Remove leaves after recommended time (adjust to taste) 
- If you want stronger tea, use more leaves instead of steeping for a longer time
Leaves can be resteeped 2-3 times resulting in various flavor differences. Don't throw out those leaves until they have given it all up!
White tea is sun dried and contains a high amount of antioxidants. Low in caffeine. Heart healthy and has known cancer halting properties.
The Oothu tea estate is owned by the Bombay Burmah Trading Corporation, India's oldest publicly quoted company. Due to the recent demand for organic products in the past few decades, the company decided to transform at least one of their estates into an entirely organic agricultural method, and thus, in the 1970s, Oothu became the first tea estate in India to adapt biodynamic principles. 

Just 40 miles away from the southern tip of India, situated at the southern end of the Western Ghat, the Oothu tea estate sits in isolation from the rest of the country. The estate covers the rolling hills of Tirunelveli in the Nilgiris district and is surrounded by the tropical evergreen forests of the Kalakkad and Mundanthurai Tiger Reserve, which hosts a rich diversity of unique wildlife. The rich jungle corridors have been preserved to maintain the rare natural ecosystem, most suitable for the organic tea production.

Oothu was among the first in India to become organic certified in 1992, and Fair Trade certified in 1995. Currently, Oothu tea estate is the largest organic producer of tea in the world.