Matcha + Yuzu Superfood Smoothie Booster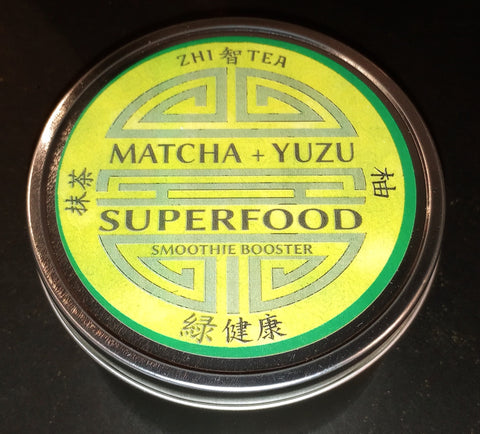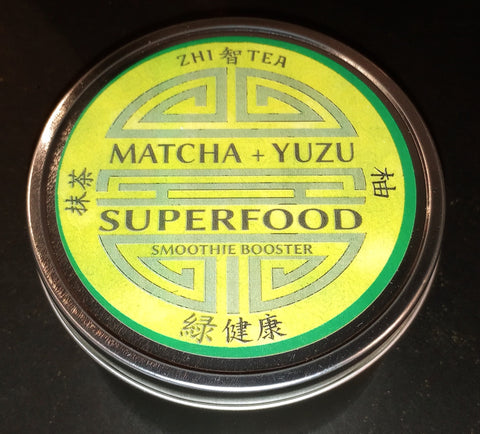 Take your nutritious smoothie to the next level! Add a tablespoon of our Matcha + Yuzu Superfood Smoothie Booster to make it even better for your body and mind.
You'll get a shot of energizing matcha and the Vitamin C from Yuzu and other citrus fruits along with 14 other superfoods that help alkalize the body, reduce inflammation, fortify the immune system and promote healthier cells.

This is not a tea, but includes all the nutrients of tea and much more. So before you turn on the mixer for the next smoothie, remember to give it a Boost!
Ingredients: green tea*, barley grass*, wheat grass*, spirulina*, alfalfa leaf*, spinach leaf*, kelp*, dulse leaf*, moringa leaf*, orange peel*, nutritional yeast*, beet root*, chlorella*, lemon peel*, wheat grass juice*, and dandelion leaf*.
* = organic
Instructions: Add one heaping tsp to your smoothie drink for a super boost of organic goodness!
A Japanese study found that drinking green tea daily can lower the risk of death from a variety of different illnesses, including cardiovascular disease. The Tohoku University study looked at over 40,000 healthy adults aged 40-79 who lived in Japan. Over the course of the 11-year study, people who drink three or more cups of green tea a day had a 16 percent lower risk of dying from any cause and a 26 percent lower risk of dying from heart related illnesses than those who only drank one cup of tea a day. 

Matcha is a Japanese green tea that is finely-ground into powder. The origins of matcha date back to the Tang Dynasty (618-907AD) where tea leaves were steamed and formed into bricks for storage and trade. The tea was prepared by roasting and pulverizing, making it into powder. The powder was then added to hot water and salt. This method of preparing tea became popular during the Song Dynasty (960-1279AD). In 1191, the Buddhist Monk, Eisai, brought this tea method to Japan. Slowly, powdered tea became forgotten in China while simultaneously became popular in Japan. 

Matcha is made from the same shade-grown tea leaves used to make gyokuro. Tea bushes are covered from the sunlight, allowing the leaves to become a darker green and cause the production of amino acids which makes the resulting tea sweeter. The tea buds are hand-picked and rolled out flat to dry. Then they are de-veined, de-stemmed, and ground by stone into fine powder, matcha.