Kenya Chai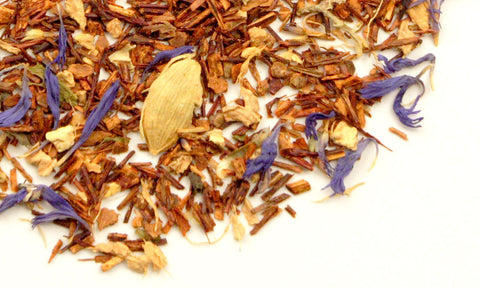 Ingredients: Red rooibos*, cinnamon*, cardamom*, ginger root*, cornflowers*, stevia leaf*, and natural cinnamon, ginger, and vanilla flavors
(*Organic)
Zhi Signature Blend Kenya Chai begins with our Red Rooibos and we fold in copious amounts of cinnamon, cardamom, ginger root, blue cornflowers, stevia leaf, and vanilla  to create an intoxicating herbal tisane. Our rooibos chai is a lighter version of the traditional chai with no caffeine and a slightly milder body. 
Resplendent with color, aroma, and flavor, Kenya Chai is designed to take chai to the next level. And you too! Now this is a rooibos chai you can dive into and indulge at will. Zero caffeine, naturally. Slightly sweet. So go for it! 



aka Red Tea Chai, Red Bush Chai, Rooibos Chai
Water: 195-205°F | 2 heaping tsp per 12 ounce cup | Infusion Time: 4-6 minutes

How To Create The Worlds Best Tasting Chai Latte
Ingredients:
4-6 heaping Tbsp Zhi Chai 
32 oz milk (oat mylk works great)
Sweetener of choice - agave nectar is wonderful, so is turbinado sugar
Spring or filtered water

Place Chai in appx two cups boiling water. Cover and simmer down to a syrupy consistency - about 10 minutes. Add water if you run low. Don't use too much water, as you want the finished product to be as creamy and rich as possible!
After about 10 minutes, slowly add the milk and sweetener to taste. Stir occasionally.
Simmer and remove before it starts to foam up. Remove immediately from heat and strain out solids. (You can save this for a second steeping!)
Makes four servings 
Serve hot or over ice! 
Leftovers (as if!) can be chilled in the fridge for 2-3 days.
-Zhi Tea Master
Red tea (Rooibos/Red Bush) has been researched a great deal over the last few years. Results indicate that Rooibos has the highest levels of antioxidants of all infused beverages. Higher in fact than Green Tea. 

As such, it displays the highest anti-aging properties. 

In Japan, Rooibos is believed to aid longevity, and is known as Long Life Tea.

Along with the fact that it is 100% caffeine-free, well you can enjoy this delicious cup anytime of day.

The chai spices are not only delicious but both calming and stimulating for digestion.
Rooibos plant grows only near the Cape of Good Hope in South Africa. It was first noted by botanist Carl Humberg in 1772. 

A century later, Benjamin Ginsberg, a Russian immigrant, realized its marketing potential, and in 1904 began offering it as an herbal substitute to tea. 

The difficulty of shipping tea during the Second World War had boosted demand for Rooibos, which began to be referred to as Red Bush Tea, or simply Red Tea.