The Dark Night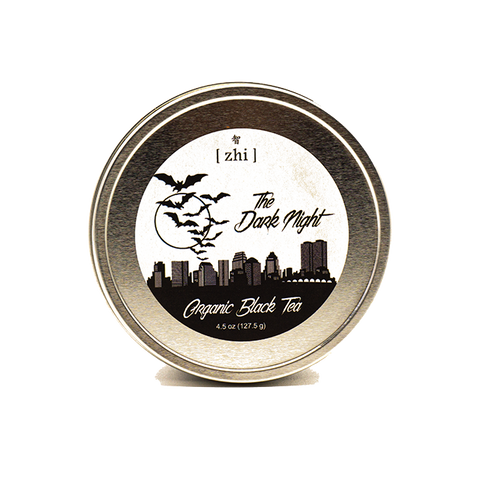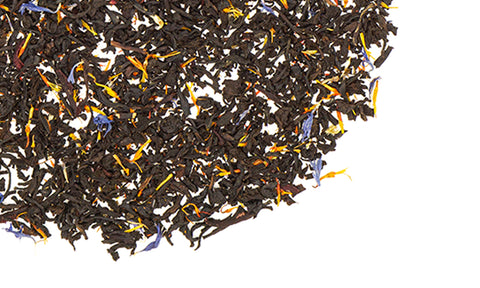 Ingredients: Indian black tea*, hibiscus*, blueberry*, safflower*, and cornflower* with black currant*, raspberry*, and pecan flavors*
(*Organic)
Initially created as a limited edition for one of our closest friends, the Dark Night is blended with the connoisseur as well as the artist in mind.
Though our Dark Night comes in 1-pound pouches, each 4.5 ounce tin features our fair city's skyline and an homage to our friends, the Mexican free-tailed bat who happen to reside under the famed Congress Avenue Bridge in Austin.  The capital city is considered home to one of the largest habitations of this species of bat in North America.
The tea has a beautiful umber aesthetic speckled with blue cornflowers, safflower orange bursts and subtle flecks of golden tea tips; it is as easy on the eyes as it is on the palate. 
In the cup is a hearty and robust expression with dark fruit and toasted biscotti notes accompanied by a malty finish. Creamy enough on its own but add a touch of your favorite milk to draw out the subtle tones and elevate the experience. ​​​​​​​
Hint: Slightly more leaf and shorter steep time is really smooth.

Water: 208°F | Leaves: 2 tsp per 12 ounce cup | Infusion Time: 3-4 minutes

Basic Steeping Tips
- Use filtered or spring water, whenever possible 
- Don't overboil water 
- Remove leaves after recommended time (adjust to taste) 
- If you want stronger tea, use more leaves instead of steeping for a longer time
Leaves can be resteeped 2-3 times resulting in various flavor differences. Don't throw out those leaves until they have given it all up!
Black tea has a class of polyphenols that protect your bones and teeth (help the body from pulling calcium) and is good for your heart. Black tea contains antioxidants and about 1/3 the amount of caffeine as found in a cup of coffee.