2.0 oz Box Loose - Masala Chai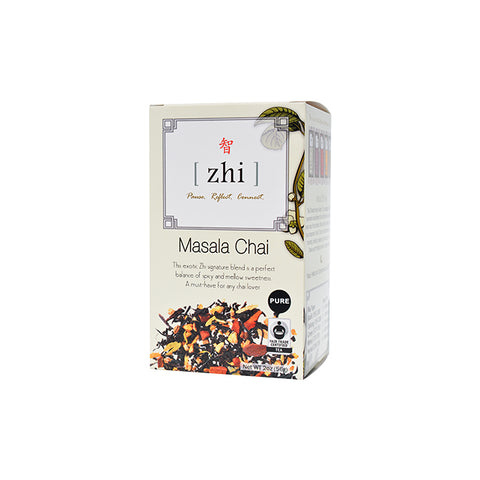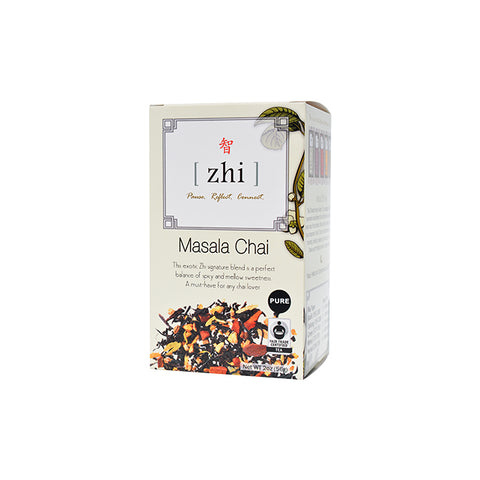 Exotic flavor sensation! Our Zhi Signature Blend Masala Chai is everything you can desire in a chai and much more. We begin with our Assam Black and fold in heaps of cinnamon, ginger, cardamom, and vanilla – all natural and high grade – in the perfect amounts. 

What results is a spicy cup, but not overwhelming, with a hint of vanilla sweetness. 

This tea is great straight with a brief steep or lovingly simmered and taken with milk and natural sweetener. We recommend blue agave nectar for a creamy, luscious delight. Purchase a two-pak for a 15% DISCOUNT!
Water: 212°F | 1 Tbsp per 12 ounce cup | Infusion Time: 3-4 minutes

How To Create The World's Best Tasting Chai Latte
Ingredients:
4-6 heaping Tbsp ZHI CHAI 
32 oz milk (soy milk works great)
Sweetener of choice – agave nectar is wonderful, so is turbinado sugar
Spring or filtered water

Place Chai in appx two cups boiling water. Cover and simmer down to a syrupy consistency - about 10 minutes. Add water if you run low. Don't use too much water, as you want the finished product to be as creamy and rich as possible!
After about 10 minutes, slowly add the milk and sweetener to taste. Stir occasionally.
Simmer and remove before it starts to foam up. Remove immediately from heat and strain out solids. (You can save this for a second steeping!)
Makes four servings
Serve hot or over ice!
Leftovers (as if!) can be chilled in the fridge for 2-3 days.
-Zhi Tea Master
Masala Chai originates from India as a popular beverage made by brewing tea with a mixture of Indian spices and herbs. For many English speakers, the term "chai" is synonymous with "Masala Chai". Chai in many languages, including Hindi and Punjabi, is the generic term for tea, which originates from the Chinese word for tea, "cha." Masala comes from an Indian expression for anything blended with spices. Masala Chai is immensely popular – it is more popular in India than coffee is in the US. 

Since antiquity, tea plants have grown wild in the area of Assam. Historically, tea was viewed as an herbal medicine rather than a beverage by South Asians. Some of the Masala Chai spiced blends used today can be derived from ancient Ayurvedic medical texts. Legend has it that over 5000 years ago, a king created an herbal version of the chai in an Indian court. In 1830, the British East Indian company became concerned with the Chinese monopoly on tea and started setting up tea plantations in Assam. The black teas produced there were seeped into Masala Chai recipes, and thus the tea was born.