Tebí Tea Kettle - Charcoal - NEW!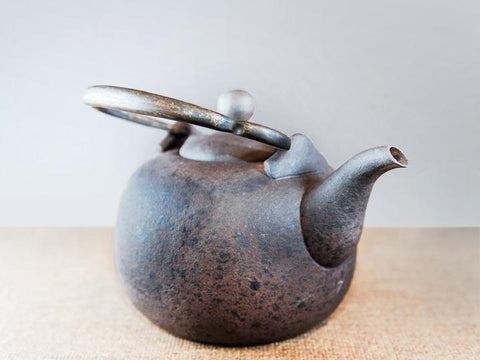 Tebi developed this artistic teapot for tea lovers who want to heat their water in a beautiful way.
By using a special type of clay blend and firing the teaware at a high temperature of 2300°F, this teapot can be used with electric or gas stoves, spirit lamps, gel fuel heaters, and low heat wood fires.
A great asset to any tea lover's collection and can easily replace an electric kettle. The surface texture comes from an applied special coating that creates a charcoal color and rusty metal texture. With a beautiful bronze handle and a big body with interior filter, the Tebi Tea Kettle lets you share your favorite tea with even more of your friends.
Dimensions: 6 x 4.75 x 3.25 ; 18.3 fl oz ; 14.3 oz
CAUTION: PRODUCT WILL BE HOT WHILE HEATING. DO NOT HEAT WITHOUT WATER.