Bai Ji Guan Oolong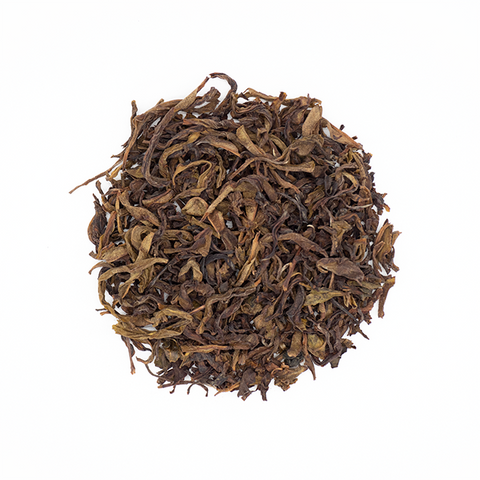 Ingredients: 100% Organic Bai Ji Guan oolong tea.  Hand crafted artisan tea         
Bai Ji Guan (aka White Cockscomb) is a classic Wu Yi varietal originating from the "Bat Cave" deep in the Wu Yi mountains.  First recorded in the Ming Dynasty it was given this name because the tops of bushes have a bright yellow-green appearance that in strong sunlight is almost white in color.
Bai Ji Guan is lightly processed through shade withering and when brewed gives up a sweet mushroom and longan fruitiness that is very delightful.  Cha Qi (life force of tea) is noticeable but subtle and never overpowering.  
This tea has been grown without the use of pesticides or chemical fertilizers.
Apr 2016 batch. Extremely limited!


Preparation Methods: 

Gaiwan: (preferred) 

Put 5g or 2 tsp Bai Ji Guan Oolong into a 100ml ceramic gaiwan;

Pour 200 degree water into gaiwan. Brew for 20 seconds for the first brewing, longer time for the following brewing; These buds can stand up to many steepings.

Western Style:

One heaping tsp per 12 oz cup, or one Tbsp per 24 oz pot

195-205 degree water

Steep for 2-3 minutes or to taste. Can be steeped multiple times

Flavor / taste note: An intense, long lasting, exotic and flowery aroma with lingering tropical fruit notes. The flavor has bittersweet and fruity complements with a semi-dry start and mouth-watering finish.
Basic Steeping Tips
- Use filtered or spring water, whenever possible
- Don't overboil water 
- Remove leaves after recommended time (adjust to taste) 
- If you want stronger tea, use more leaves instead of steeping for a longer time
Leaves can be resteeped many times resulting in various flavor differences. Don't throw out those leaves until they have given it all up
Polyphenol in oolong tea is effective in controlling weight. It activates the enzyme that is responsible for dissolving triglycerides. Studies have confirmed that a 2-3 cup per day intake of oolong tea contributes to enhancing the function of fat metabolism and controlling obesity.
The history of tea in China is long and complex. The Chinese have enjoyed tea for millennia. Scholars hailed the brew as a cure for a variety of ailments; the nobility considered the consumption of good tea as a mark of their status, and the common people simply enjoyed its flavor.

Tea was first discovered by the Chinese Emperor Shennong in 2737 BC. It is said that the emperor liked his drinking water boiled before he drank it so it would be clean, so that is what his servants did. One day, on a trip to a distant region, he and his army stopped to rest. A servant began boiling water for him to drink, and a dead leaf from the wild tea bush fell into the water. It turned a brownish color, but it was unnoticed and presented to the emperor anyway. The emperor drank it and found it very refreshing, and cha (tea) was born.