Blood Orange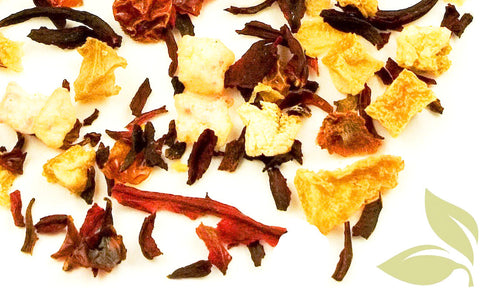 Ingredients: Orange peel*, hibiscus*, rosehips*, apple bits* and orange essence*
(*Organic)
Our interpretation of the popular herbal drink is the Zhi House Blend Blood Orange. Orange peel, hibiscus, rose hips, apple bits, safflower, and a little natural essence all combine to make a superb herbal treat. 

The cup is a gorgeous deep orange-red and the flavor is quite bold, yet nice and soft with a very satisfying finish. Makes an incredibly refreshing iced tea.

Naturally caffeine-free and naturally delicious.
Water: 208°F | Leaves: 2 tsp per 12 ounce cup | Infusion Time: 3 - 6 minutes

This also makes a fantastic iced tea. If using ice, then simply double the amount of blend per cup.
Enjoying both fruits, spices and rooibos tea, you can't go wrong with this one.

Kids even love this and is a healthful alternative to soda.
Called "Blood Orange" due to it's deep red color after steeping.