Berry Hibiscus Iced Tea Kit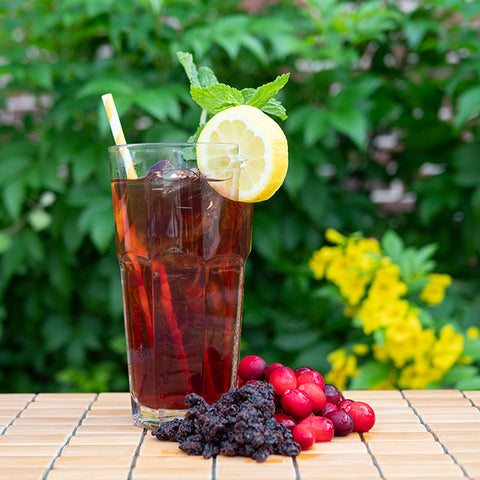 Ingredients: Hibiscus*, currants*, rosehips*, elderberries*, cranberries*, rooibos*, with plum* and currants* flavors
(*Organic) 

This cool blend captures the bold juiciness of three types of berries; elderberry, red currant, and cranberry. Along with a hearty inclusion of hibiscus and a touch of rose hips, this balanced tisane makes a rockin' iced beverage. 

No caffeine here just a plethora of vitamins, antioxidants, and tons of crisp, refreshing flavor.
For large sizes at discount, see here.

Ice. A glass. Thirst. Repeat.

Add a touch of simple syrup or drink as-is for a slightly tart, healthy iced cooler. Caffeine free!

Each kit contains four x one ounce filter pouches. Makes between 8-16 quarts of gorgeous iced tea. (quantity varies depending on steep method - see instructions on label)

Cold brewed, cold steeped, whatever you call it - it is great!


Basic Steeping Tips
- Use filtered or spring water, whenever possible 
- Don't over-boil water
- Remove pouch after recommended time (adjust to taste)
Caffeine free
Distinctive, vibrant, natural color
Hibiscus tea cools down the body
Thought to lower blood pressure
Hibiscus tea is also rich in Vitamin C