Yunnan Black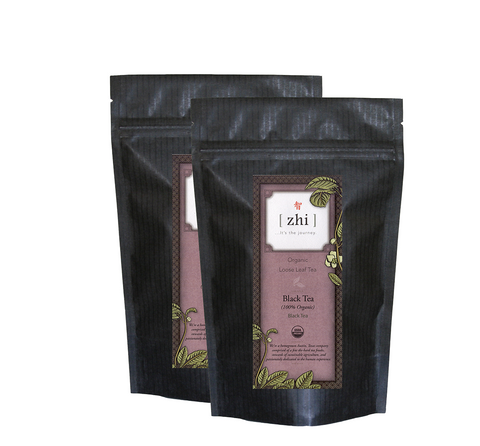 Ingredients: 100% Organic black loose tea leaves
Our complex, rich and full-flavored black gold buds/needles from Yunnan.

A vivacious, smart honeyed liquor; bright coppery leaves with many gold tips; a mysterious ever-so-lightly smoky finish. This richly layered tea presents a bouquet of wildflowers and wine that evolve through subsequent steepings. 

A truly superb Yunnan Black. Many find it to be a perfect afternoon restorative; soothing and energizing.
Water: 208°F | Leaves: 2 tsp per 12 ounce cup | Infusion Time: 3-4 minutes

Basic Steeping Tips
- Use filtered or spring water, whenever possible
- Don't overboil water 
- Remove leaves after recommended time (adjust to taste) 
- If you want stronger tea, use more leaves instead of steeping for a longer time.
Leaves can be re-steeped 2-3 times resulting in various flavor differences. Don't throw out those leaves until they have given it all up!
Black tea has a class of polyphenols that protect your bones and teeth (help the body from pulling calcium) and is good for your heart. Black tea contains antioxidants and about 1/3 the amount of caffeine as found in a cup of coffee.
Yunnan Black comes from the province of Yunnan and has a history of only about 70 years. In China, this tea is referred to as "Dian Hong", meaning "Yunnan Red". Black tea is called red tea in China because of the reddish brown color if the infused liquid. One major distinction of the Yunnan Black is that it contains many fine leaf buds, or "golden tips" in the dried tea. Yunnan Black of higher quality produces a tea that is of a brassy golden color, whereas cheaper varieties produce teas that are of a darker brown hue.

Yunnan Black is produced in the southwest of China, which features rough terrains and is dotted with cloud-veiled mountains and meandering rivers. Yunnan Province is ideal for producing tea – it has high abundance of rain fall, mild climate, and fertile soil. Yunnan Black is made from Yunnan Big Leaf tea bushes, which contain a rich supply of polyphenol, which gives the black tea its strong taste. 

Yunnan Black first came to existence in 1938, when a man named Shao Qiufeng traveled to Fengqing County of Yunnan because the county where he came from, Qimen, was occupied by enemies. He discovered that Fengqinq Province was a great source for tea, so he produced about 66,700 pounds of tea and sold it to London for a price of 800 pence per pound. Although it received great popularity abroad, it wasn't until 1949, when the People's Republic of China was established, did the tea really take off to become one of China's best black teas.