Tebi Breeze Teaware Tea Set - White - NEW!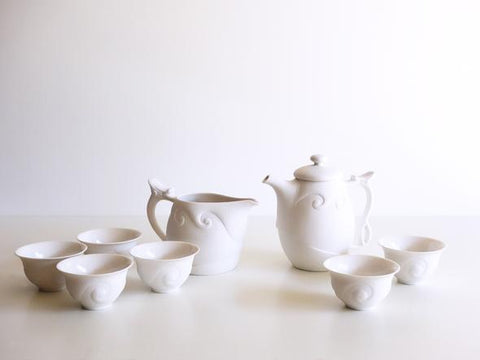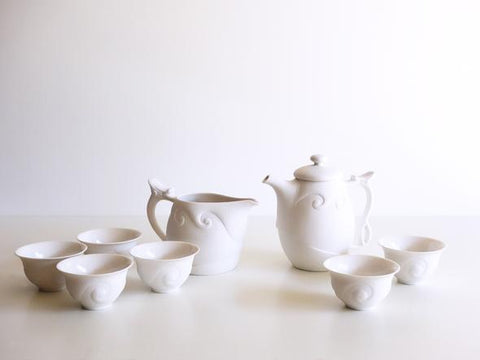 Derived from Chinese mythology, the concept of this teaware set is to catch the ancient  image of the Dragon of the Four Seas: the weather god. The design is filled with a sense of water and air.
The teapot, tea server, and teacups are all different heights which creates a dynamic and lively image even when this teaware set sits still on your shelves - which is the essence of the Dragon.
And like a Dragon, this set is large enough to share with your friends. Boasting a hearty set of six tea cups, it's made for enjoying tea with friends and family.
The teapot itself has a very large capacity, which allows tea leaves to expand efficiently and traps the tea's aroma inside for a more delicious cup. Each piece is glazed with a smooth porcelain interior that makes it easy to clean and is well suited for scented and green teas. The special matte glazing on the exterior softens this set and lends itself to the subtle sense of water and air you feel when hold a steaming cup of tea.
Teapot : 6 x 3.5 x 5.25 ; 13.6 fl oz ; 9.3 oz
Server : 6 x 3.5 x 4.5 ; 14.5 fl oz ; 6.7 oz
Cups : 3 x 1.75 ; 2 fl oz ; 2.3 oz