Cacao Chai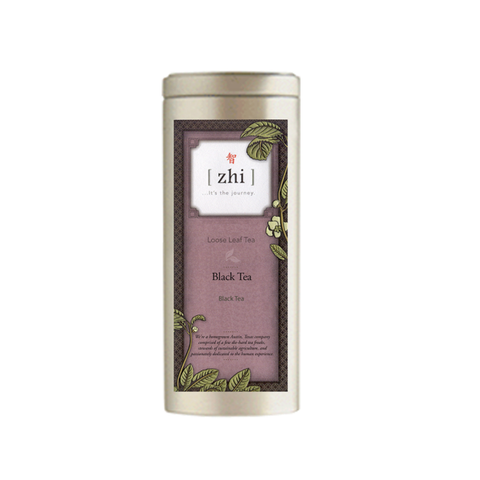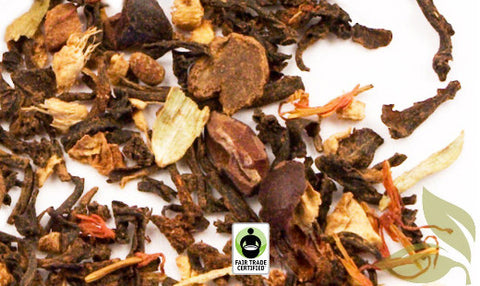 Ingredients: Black loose tea leaves*, cinnamon*, ginger root*, cardamom, cacao nibs*, and safflowers* with chocolate*, cinnamon*, ginger*, and vanilla* flavors
(*Organic)
Our Zhi Signature Blend Cacao Chai is lovingly hand-crafted to satisfy the most discerning chai aficionados and dark chocolate lovers. 

Assam Black Tea with cinnamon, cardamom and ginger, pure vanilla and an abundance of Ecuadorian cacao nibs. 

Our most popular chai loves whole organic milk and turbinado sugar! We created this blend due to overwhelming demand – at home! 

Join us in a steaming cup of this sumptuous delight.
 Blend - Organic

aka chocolate chai
How To Brew The World's Best Tasting Chai Latte- Stove Top Method
More labor intensive, but very rewarding!
Ingredients:
4-6 heaping Tbsp ZHI CHAI 
32 oz milk (soy milk works great)
Sweetener of choice – agave nectar is wonderful, so is turbinado sugar
Spring or filtered water
Place Chai in approx. two cups boiling water. Cover and simmer down to a syrupy consistency - about 10 minutes. Add water if you run low. Don't use too much water, as you want the finished product to be as creamy and rich as possible!
After about 10 minutes, slowly add the milk and sweetener to taste. Stir occasionally. Simmer and remove before it starts to foam up. Remove immediately from heat and strain out solids. (You can save this for a second steeping!) 
Makes four servings
Serve hot or over ice! Leftovers (as if!) can be chilled in the fridge for 2-3 days.
-ZHI Tea Master
The history of tea in China is long and complex. The Chinese have enjoyed tea for millennia. Scholars hailed the brew as a cure for a variety of ailments; the nobility considered the consumption of good tea as a mark of their status, and the common people simply enjoyed its flavor.

Tea was first discovered by the Chinese Emperor Shennong in 2737 BC. It is said that the emperor liked his drinking water boiled before he drank it so it would be clean, so that is what his servants did. One day, on a trip to a distant region, he and his army stopped to rest. A servant began boiling water for him to drink, and a dead leaf from the wild tea bush fell into the water. It turned a brownish color, but it was unnoticed and presented to the emperor anyway. The emperor drank it and found it very refreshing, and cha (tea) was born.