Tebi Pilgrim Teaware Tea Set - Rosewood - NEW!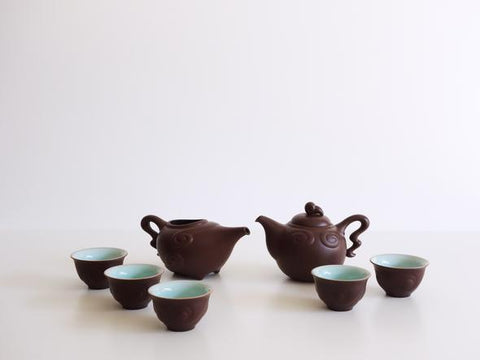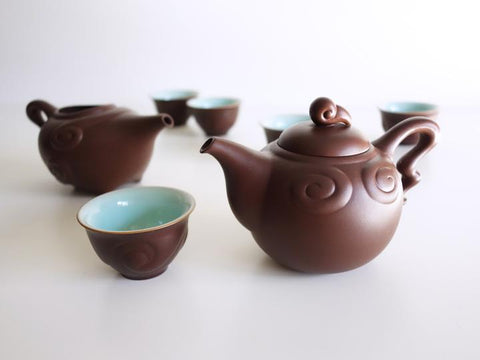 Based on the legendary pilgrimage of the Monk Xuanzang, who traveled thousands of miles to "Western Regions" to obtain the Buddhist sacred texts in 600BC, this teaware set depicts this classic story vividly through symbolism and analogy. The imagery found on the teaware combines Chinese folk religion, mythology, Taoist, and Buddhist philosophy all into one; and it references the 16th century classic Chinese Novel "Journey to the West", based on Xuanzang's journey. This set truly represents an outstanding piece of Asian culture.
The ornamental stripe on the teapot and tea server represents the magical circlet of one of the Monk's protectors on his journey - the Monkey King. The handle symbolizes the Monkey King riding his magical cloud to protect the Monk. And the five cups represent each of the five major characters in the tale: the Monk, his White Steed, and his three protectors. By using this set, we share in a sense of joining their great pilgrimage in the vast windy desert.
Teapot : 5.5 x 3.5 x 3.75 ; 7.5 fl oz ; 6.8 oz
Server : 6.5 x 3.5 x 2.75 ; 9 fl oz ; 3.6 oz
Cups : 2.5 x 1.5 ; 1.2 fl oz ; 2.3 oz